You have to climb the learning curve.
But does it have to be so steep?
You believe in the process. You embrace experimentation. You know there are no shortcuts to the wealth of purpose, value, and financial success you envision for your business.
But you wouldn't say "no" to a push up the proverbial hill, would you?
That's our specialty: pushing business owners who are already doing great work (whether for one or one million) to the next level of success.
"Adam and Tara have been the most amazing, insightful, and generous mentors that I have had the honor of working with — a seriously amazing team."
— Sapna Mehra, designer
Kick Start Labs brings all your business growth & learning under one roof. Our resources and our community are designed to accelerate the success you're already experiencing. This is your chance to get everything you need in one place to create superior customer experiences, superior products, and superior profit.
We work with business owners who are ready to go beyond the basics. Kick Start Labs members are poised to:
Take their message to a bigger audience and attract positive, challenging new customers.
Leverage their big idea in the form of a program or book to maximize profit & impact.
Discover a business model that allows them less time at the desk or more time in deep development.
Push beyond trading time for money.
Find the ease of owning a business and stop letting their business own them.
Unlock a magnetic brand that represents how they serve their clients best.
Your business thrives on bold expectations and careful experimentation.
Success – service, money, freedom – is incremental. You are learning every step of the way and we're here to support you. And to give you jet engines & rocket fuel to play with.
When you craft your business around learning from your clients, yourself, and your marketplace, you guarantee growth is a daily practice.
Every day, you get closer to your goals.
"Your coaching has helped me to declutter my mind and find true meaning in how I serve in business and in life. I've raised my prices & have extra profit to invest in equipment & materials. I now have more respect for my skills, talent and time and those of others. I work less hours and enjoy more quality time with my friends, family and kayak."
— Jeanette Walker, jewelry artist

That's the guiding principle behind Kick Start Labs. Through that principle, we create resources that open the door to:
Remarkable work that is taken seriously.
Profitable offers that are based on service & true solutions.
Authentic marketing that is driven by value & core values.
Growth-driven systems that ease your burden & guide you to true freedom.
You get every resource we create for a year. Plus: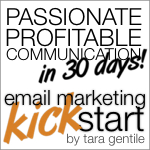 Website Kick Start – originally $297 – Learn to build your own pro website from the ground up. Or kick start the one you've already got. Put your website to work for you.
Email Marketing Kick Start – $97 – Learn to leverage your marketing through the beauty of email — the most effective channel for spreading your message & earning sales.
Marketing Rewired – $25 – Learn why marketing doesn't start when the product is finished. Marketing is a whole business mindset based on purpose, people, positioning, promotion.
Monthly Masterclasses – Peek inside the brain of people at the height of their professions as they teach you the tricks they use with top-dollar clients every day.
Monthly Q&A Support Calls – Get on the phone with us every month and get your business growth questions answered. See below for just who we are & how we can rock your business.
Community Forum – Go beyond surface level. The interactions you have with other business owners are where deep learning happens.
Join Kick Start Labs today!
Only $39/Month
Praise for Website Kick Start
This was definitely one of the best investments I made in my business and I love being able to go in and control my site design myself!
— Amy Kozak, jewelry designer
"I knew for a long time that I needed a really good website for my business. Website designers were too expensive for me, and dabbling in it myself just made me realise I was in way over my head. I discovered that this is more than a build-a-website course. This is Tara teaching me how to build a
website that entices my customers and gently leads them from page to page, from product to product in a purposeful way
."
– Stephanie Alford, owner of Space Cadet Creations
About Kick Start Labs
Kick Start Labs believes business isn't rocket science. It's sort of like the Mr. Wizard's World of business schools. We create practical resources for a new generation of business owners who want to make a difference in this world through commerce.
And we do it in plain old English. No MBA required.
Tara Gentile, Lab Director
Tara is a business strategist on the cutting edge of a new era of business. She has coached or taught hundreds of business owners and has thousands of satisfied customers. She brings creative thinking to branding, product development, and marketing that incorporates both strategy and high touch design. Her approach to business in the You Economy resonates with MBAs, PhDs, and graduates of the school of life.
She's been featured on US News & World Report, Daily Worth, Problogger, BlogHer, The Mogul Mom, and in the New York Times bestselling book, The $100 Startup by Chris Guillebeau.
Adam King, Chief Mad Scientist
Adam is one part eccentric inventor, one part tenacious detective, and one part high-flying executive. He's been involved in entrepreneurship since childhood, and comes from a 100 year lineage of business owners. It's in his blood.
He's worked with top organizations on both the personal & commercial sides of business development. He specializes in understanding how entrepreneurial growth – especially in the digital age – requires an unswerving commitment to personal growth.
He's spoken at SXSW Interactive & The Art of Earning LIVE and been featured in the bestselling book, Uncertainty by Jonathan Fields.
Join Kick Start Labs today!
Only $39/Month
After joining, you'll be directed to create your own membership profile.
Praise for Marketing ReWired
"This isn't about crafting a hollow mission statement;
this is about positioning yourself within your industry.
Even as someone who is experienced with marketing myself and my business, I find the questions she asks and the prompts for consideration to be something that I can apply to my work, right now."
— Kate Swoboda, creator of The Coaching Blueprint
"LOVED ReWiring my Marketing Brain. It has opened the floodgates."
— Deborah Rogers, creator of the Women in Wellness Project
Don't waste your time & energy scouring the internet or bookstore for the resources you need to run a business that is both profitable and value(s)-driven.
Don't suffer the frustration of trial & error business growth.
Don't put all your money on the "right way" only to find that its not "your way."
Join Kick Start Labs!
Only $39/Month
After joining, you'll be directed to create your own membership profile.
Your satisfaction is our priority. That's why we're offering a 30 Day Money Back Guarantee. If for any reason, you're not satisfied with Kickstart Labs and it's offerings, please contact us within 30 days of purchase for a full refund. No questions.