[threecol_one]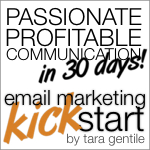 [/threecol_one]
[threecol_two_last]
2.8 million emails are sent flying around the interwebs every second. What difference can yours make?
Email marketing doesn't have to suck. Not for the sender. Not for the receiver.
Email marketing is the single best way to woo raving fans, delight unsuspecting customers, and wow your loyal audience. Your email marketing is a direct line to the people who care about your business the most.
How would your business be different if people were waiting anxiously to receive, open, and act on your emails? How would you craft offers differently knowing that people are really listening?
Having a responsive, engaged, and aligned email list at the ready makes you a more confident business owner. It will also put more money in your pocket.
Email Marketing Kick Start is a 30-day email course designed to help you craft passionate, profitable communication that supports your business so it can support you.
[/threecol_two_last]