How would it feel to replicate your best customer, over & over again, to serve thousands like her?
Your life and business would be full of ease. You'd have confidence that your business would generate a steady stream of customers who challenge and excite you. You would be a leader for a community moved by your vision.
Understanding your customer–how they think and why they act–is what leverage grows from. It's the key to scale that is full of integrity, value, and results. Scaling leverages your gifts for the greatest good across the broadest channels.
How do you grow a community of thousands when you are used to serving one customer at a time?
How do you make your customers feel like they're one in a million when they're actually part of a movement of thousands (or more)?
How do you translate the confidence you feel about your great work into an offer that sells easily and a message that spreads rapidly?
When you know your customer's innermost thoughts & desires, you can serve 10,000 people and make each person feel like you're serving only her.
Here's what we're not talking about: demographics, avatars, profiles, or market analysis.
You know most discussion of "ideal customers" falls flat. You've got your customer profile figured out–but what do you do with it? How can you really use this information to power your business? When will you go beyond attracting a few right clients and start serving thousands of loved clients? How can you craft a business model that matches the way your customers want to be served and the way you want to serve them?
To do that, you need a fresh perspective on who your customers are: theirs. Your customers are multidimensional. They're living, breathing, evolving human beings who have the power to guide, inspire, and grow your business.
Are the foundations of your business built for the social era?
The Process
In this program, you'll work through my signature 4-step process for understanding how your customers think & act, while learning to apply that to your business to generate more results with what you already have in place.
Step One. Gather your virtual focus group. Break through analysis paralysis and get specific on who you're serving.
Step Two. Get evolutionary. Chart the course for how your customers evolve from being ready for your products to how they achieve your shared vision.
Step Three. Identify the value that creates impact. Engage a framework for communicating why your product or service is a no-brainer choice for your customers.
Step Four. Apply your discoveries. Reposition existing products to generate more sales, identify strategic partners to take your business to the next level, generate content that moves people.[/toggle]
[toggle title_open="Learn more about Tara Gentile & Kick Start Labs." title_closed="Learn more about Tara Gentile & Kick Start Labs." hide="yes" border="yes" style="default" excerpt_length="0″ read_more_text="Read More" read_less_text="Read Less" include_excerpt_html="no"]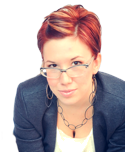 Tara Gentile works with entrepreneurs to develop business models and ecosystems that are driven by curiosity, growth, and the power of networked individuals. She empowers businesses to navigate rapid change and create systems that recognize emerging opportunities.
Armed with a background in religion & philosophy–not an MBA, she specializes in building businesses based on an intimate understanding of the customer, her desires, and her worldview.
Kick Start Labs is a microbusiness accelerator and community that believes business is always an experiment.[/toggle]
The Customer Perspective Process™ teaches you and your business to:
Identify opportunities based on your customers' needs & desires in a way that leads to massive impact
Evaluate your marketing, sales copy, and offers from your customers' point of view to ensure success
Communicate in a way that allows your message to spread rapidly and easily
Apply your learning to content strategy, strategic partnerships, and your business model to create sustainable business growth
The Customer Perspective Process is a 4-session boot camp. Calls are approximately 90 minutes and you complete the process live so that you can start using your new knowledge as quickly as possible. I offer coaching support during the final 30 minutes of each call.
The Customer Perspective Process is now a foundational resource of The Lab. You can become a member of this microbusiness support community & resource library for just $59/month. Find out more with a 10 day trial:
What if my business is brand new? Great! You've picked the best time to start thinking about exactly who your customers are and what they want. Yes, you'll have less direct experience to work with in completing exercises but you'll also receive specific instructions on how to seek out the information you need to get the most from the process.
Can't I just survey my audience to find out what they need from me? Yes and no. 99% of the surveys I see come through my inbox are painfully business-centric. Your potential customers deserve better. The most effective way to consider your customers, write a survey, or develop customer-driven products is to actually forget your business exists. You'll learn my techniques for doing exactly that.
I already have an ideal client profile. What more can I learn? Tons. A profile really only skims the surface. Your customers are growing and your business is a part of that growth. You'll learn how product & marketing development can extend your customer life cycle and allow you to spend less energy acquiring new customers, which can mean 10x more revenue per customer.
What about my own artistic vision? Sure, it's important. But if you're running a business, your customers–their needs, core desires, and dreams–are the key to your success. You can maintain your vision and bring people what they need at the same time.